Fall Arrest Systems
Our fall arrest systems stand for reliability, quality, and safety. We offer internationally certified, tailor-made complete solutions, including full-service support and training courses. Rope and rail-guided.
CLIMBING TECHNOLOGY BY HAILO WIND SYSTEMS – SAFETY AT GREAT HEIGHTS
Hailo Wind Systems invented the aluminium ladder system in Europe more than half a century ago. Now, the market leader in climbing technology offers a comprehensive range of products and services. With many innovative ideas such as the patented double-beaded rungs or special grip profile, our fall arrest systems comfortably outperform the global competition. Our entire range of vertical ladder systems, fall arrest system support rails incl. fall arrest devices (formerly known as "fall arrest system"), rest platforms, climb assists, entry assists, rotary release units, and accessories, as well as services, stands for reliability, quality, and safety.
We offer rail and rope-guided fall arrest system solutions, with decades of proven reliability in practice, for optimal safety in wind turbines. The ladder system is fitted with a guide rail or safety rope. Naturally, we also offer you the prefabricated complete system solution or kits for pre-installation, as well as certified rope and rail-guided accompanying fall arrest devices, including fixed guidance, such as the innovative fall arrest device H50.2 PARTNER.

SAFETY ALL ALONG THE CLIMB
Our climb arrest system solutions stand for optimal safety, reliability, and quality. All solutions comply with the PPE Directive (EU) 2016/425, are internationally certified (e.g. in accordance with DIN EN 353-1:2018 (EN 353-1:2014+A1:2017)), and suitable for use as fall arrest protection systems on fixed ladders. All parallel-running fall arrest devices, with years of proven reliable operation in practice, are additionally fitted with integrated shock absorbers to minimise catch-impact forces.
Note: In high structures such as wind turbines or incinerators, as well as machinery access sites, fall arrest systems are strictly mandatory in Germany from a fall height of ≥ 5 m (following DIN 18799-1) or ≥ 3 m (following DIN ISO 14122-4). Therefore, all Hailo Wind Systems climbing technology are specially designed as fall arrest systems when using vertical ladders or manhole steps, and also available above or below floor.
All Hailo fall arresters are certified in accordance with DIN EN 353-1:2018 (EN 353-1:2014+A1:2017) and conform to Directive 89/686/EEC.
Expertise, experience and know-how from the specialists
Excellent solutions for individual requirements
Installation, maintenance and much more from one single partner
We are continuously enhancing all of our products
TECHNOLOGY SYSTEM SOLUTIONS
H-50 fall arrest system
PARTNER R1 (discontinued)
H-50.2 FALL ARREST SYSTEM
PARTNER H-50.2
H-8 FALL ARREST SYSTEM
SSL-8-R1
ACCESSORIES
Rail-based Fall Arrest System
The established H-50 fall arrest system has stood for quality, safety and reliability for many years. As well as the new SPL-50-R3 fall arrest runner, it is now available with the divisible PARTNER R1 (discontinued) runner to leave the ladder anywhere when it is required.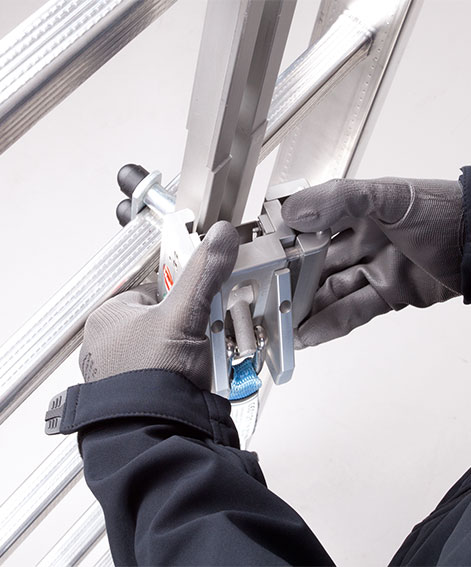 RAIL-BASED FALL ARRESTER
Rail-based fall arrester compatible with the H-50 (discontinued) system.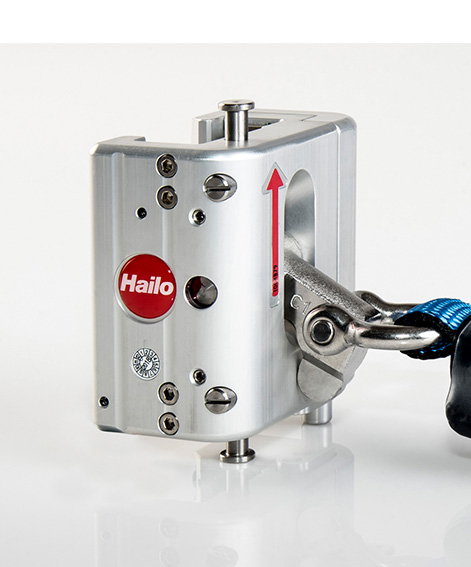 RAIL-BASED FALL ARREST SYSTEM
The top quality aluminium-extruded profile guarantees virtually unlimited durability – and therefore safety. The continuous, frameless grooved profile allows the rail to be secured anywhere on the ladder and provides for safe and low-cost installation.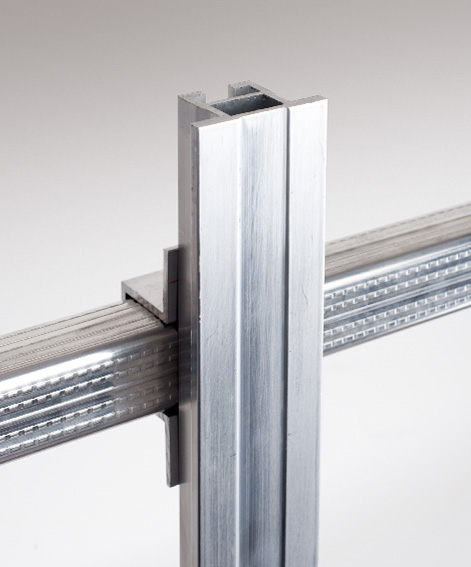 RAIL-BASED FALL ARRESTER
Rail-based fall arrester compatible with the H-50.2 system.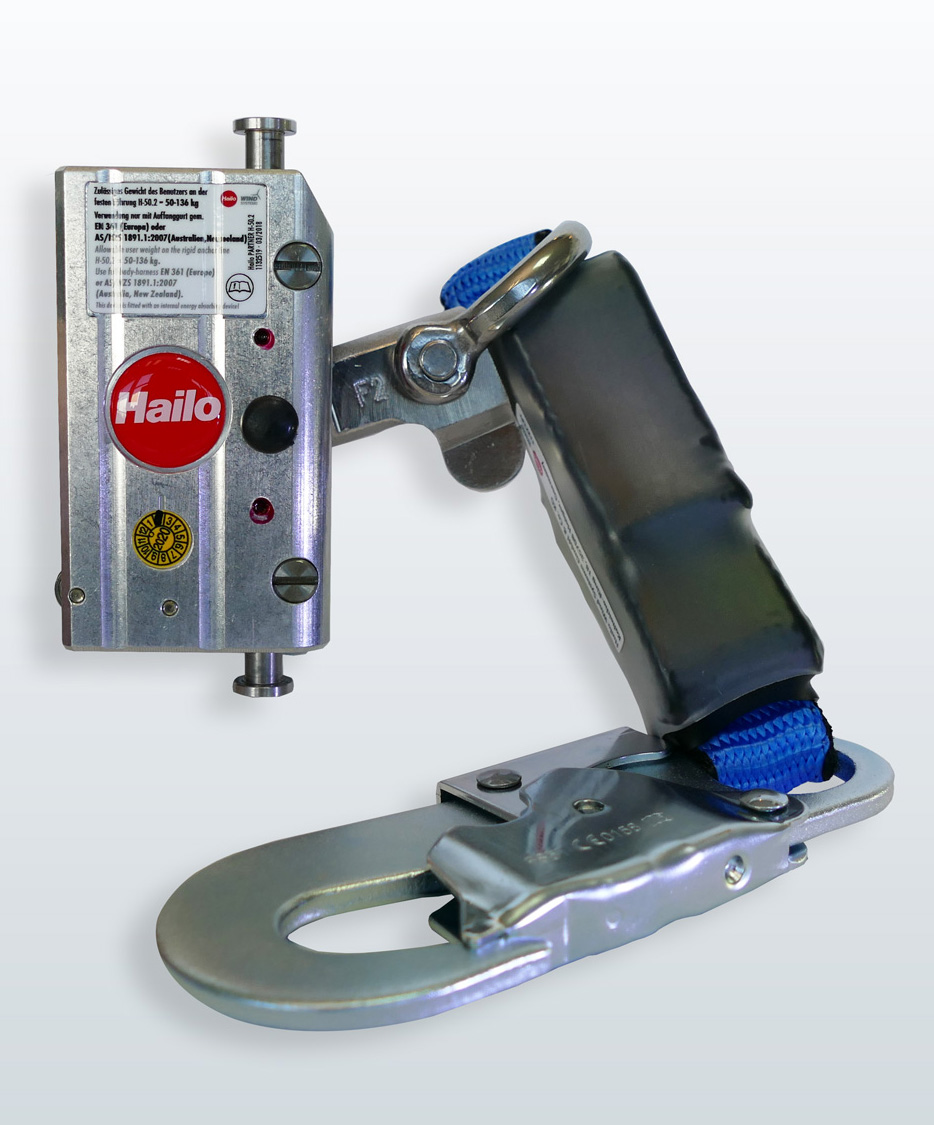 ROPE-BASED FALL ARREST SYSTEM
The rope-based SSL-8-R1 fall arrest runner was specially designed for our compact H-8 fall arrest system, which improved design enables a particularly cost-e ective solution for almost any wind turbine. And this is achieved without compromising safety, ergonomics or running quality.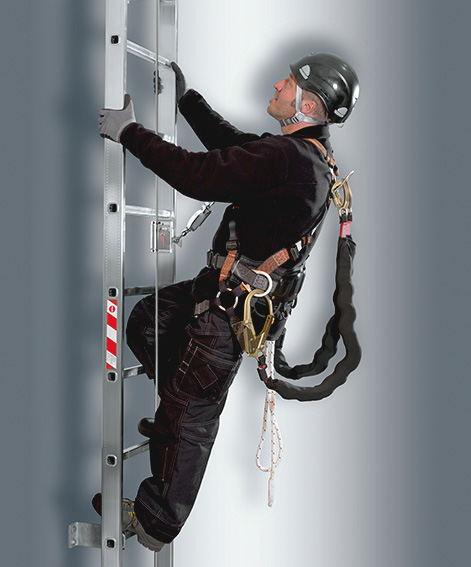 ROPE-BASED FALL ARRESTER
Rope-based fall arrester for fall arrest systems H-8 following EN 353 part 1. Designed as a reliable fall protection system for stationary ladders. Equipped with shock absorber to minimise impact force.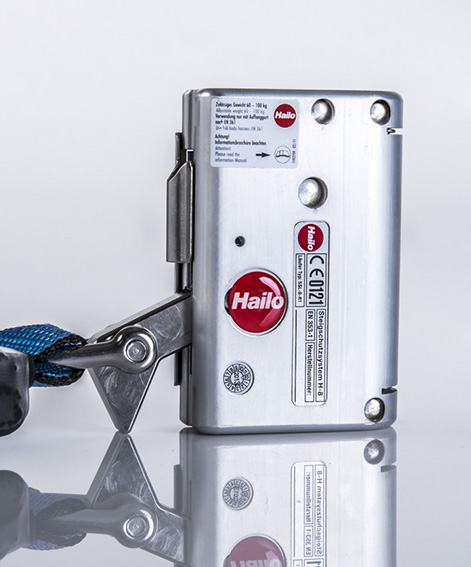 FALL PROTECTION ACCESSORIES
We offer a wide set of accessories for our fall arrest systems H8, H50 and H50.2.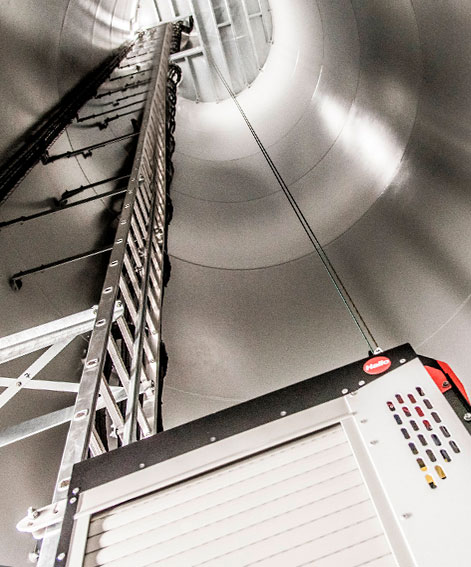 OUR CLIMBING TECHNOLOGY SYSTEM SOLUTIONS, TAILORED PRODUCTS, AND COMPREHENSIVE RANGE OF SERVICES
We offer fall arrest systems in a wide range of dimensions, materials, as well as a large number of accessories, innovative fall arrest devices, and custom rung distances. Naturally, we also offer tailor-made solutions, e.g. for use in offshore facilities and lattice towers. Our strategy, geared towards continuous further development, has helped us reach and retain our position as the leading provider for climbing technology and service lifts for many years. Worldwide.
We also offer, besides sophisticated product solutions, a large number of accompanying services such as ladder system or fall-arrest system pre-assembly, installations, maintenance, inspections, spare-parts service, repairs, as well as safety and user training courses in our training centre.

EXCELLENT SERVICE
Reliable, competent and with expertise in manufacturing
Consulting, development, commissioning, ZÜS support, expert inspection, maintenance, complete overhauls and much more:
You can rely on our first-class service.