Servicelift "TOPlift+"
Our TOPlift+ – ladder-guided service lifts, prized across the globe and in accordance with the most-modern safety standards. The TOPlift+ is ideally suited for retrofitting into pre-existing wind farms as well as for offshore uses and lattice towers.
OPTIMAL SAFETY MEETS MAXIMUM RELIABILITY
With the TOPlift+, Hailo Wind Systems sets new standards in ladder-guided service lifts. Besides various innovative safety features, the TOPlift particularly stands out through its incredible reliability, high-quality manufacturing, and unique quality.
The TOPlift+ has continuously been developed further, with many optimised details contributing to more lightweight, rugged, and high-performance models. This reduces potential downtime and time spent on maintenance, while simultaneously significantly improving the level of safety and quality. The resulting service lifts convincingly meet – or even exceed – the continuously increasing demands of the wind industry.
SAFETY FUNCTIONS
The ladder-guided TOPlift service lifts are continuously fitted with new or improved monitoring and safety functions. This series comes with, among other things, the following standard features:
1 Limit switches
2 Emergency descent device
3 Arrester
4 Folding hinged door
5 Switch cabinet
6 Shutter door
As well as additional safety limit stops situated above and below the cabin.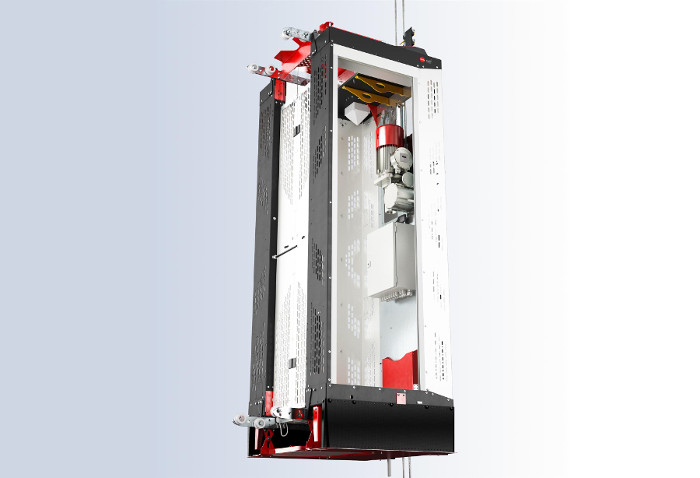 1
2
3
4
5
6
In the event of a power failure, the cabin can be moved downwards using the emergency descent device.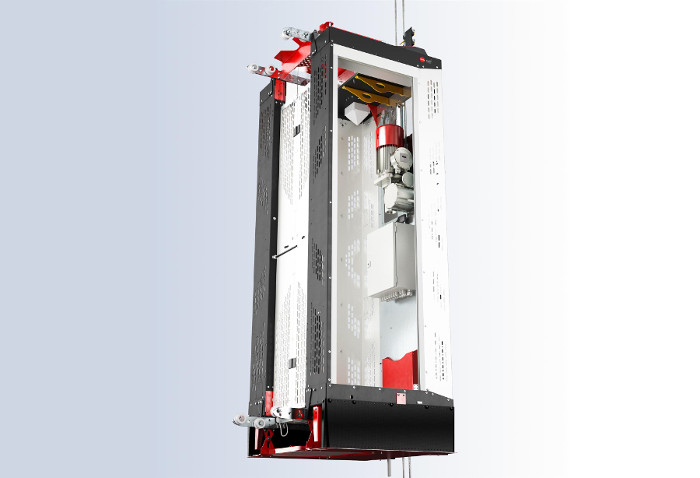 1
2
3
4
5
6
The arrester protects the cabin against overspeed during travel, and in the event of a break in the bearing cable.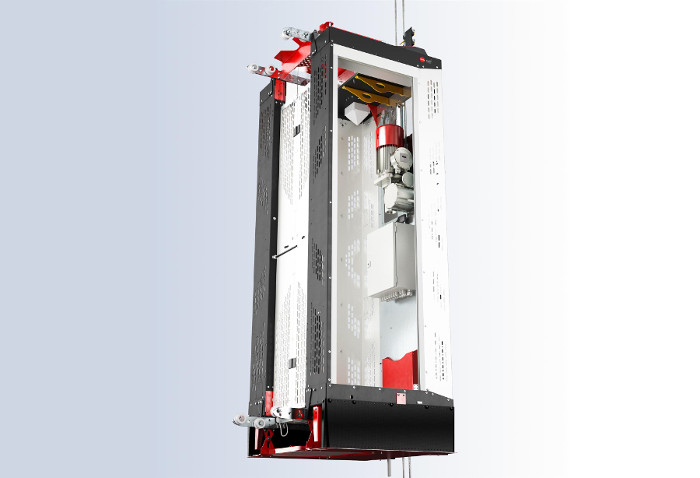 1
2
3
4
5
6
On the front for direct exit to the ladder (in emergencies or for servicing). Both doors are electrically monitored. The service cabin comes to an immediate stop if the door is opened during transport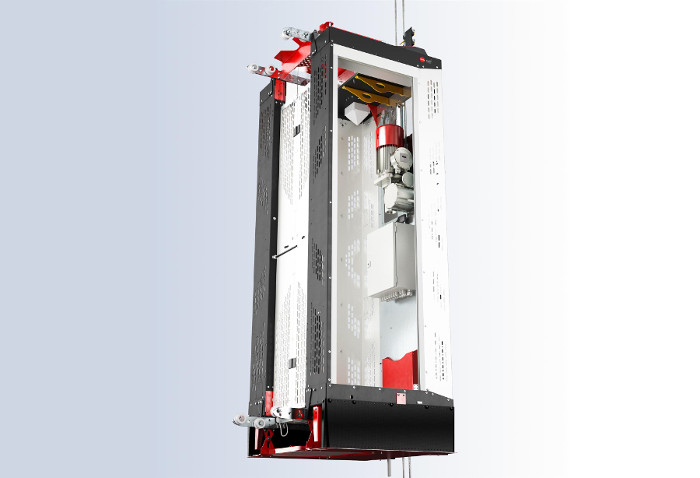 1
2
3
4
5
6
Everything compact in view. Our control cabinets are clear and provide quick access to the E-Control.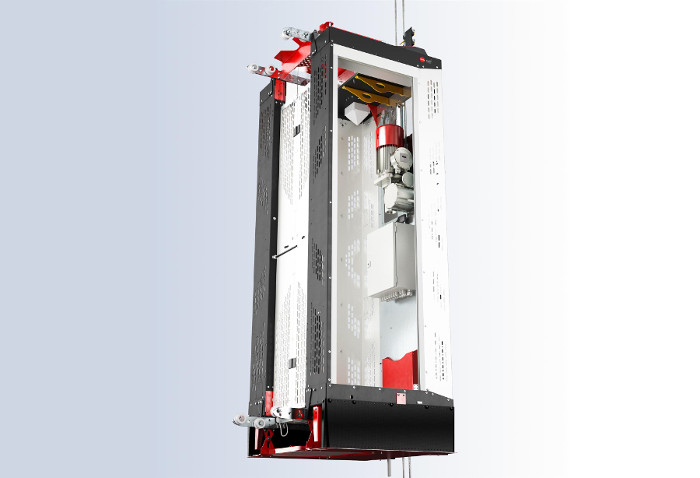 1
2
3
4
5
6
For easy and comfort entrance and exit onto a platform.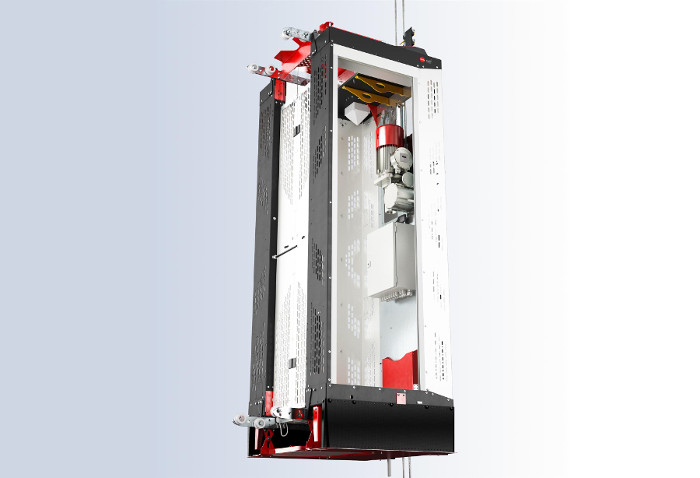 1
2
3
4
5
6
CONTINUOUS FURTHER DEVELOPMENT IS OUR RECIPE FOR SUCCESS
Newer Hailo Wind Systems TOPlifts+ models are more lightweight, without losing their rugged construction or excellent operating characteristics, thanks to the constant optimisation of details. The result: Service lifts that master the discerning global demands on quality, reliability, handling, and load capacity. All the same, its dimensions largely correspond to those of its globally popular predecessor, the H-200 SL. This ensures a high degree of tower equipment compatibility. In addition, all components are designed for the TOPlift+ to be in compliance with exterior operation on lattice towers and offshore units as well.
The ladder-guided TOPlift+ is available in various country and customer-specific editions to address the needs of our international customers, as well as with, for example, two or three-person cabins. Naturally, all models optionally comply with the special requirements of offshore wind farms. They are available across the globe, among other things, in compliance with the Machine Directive 2006/42/EC as well as in a CCV (Cold Climate Versions) edition and with a CE certificate.
All TOPlift+ series models are ideal for retrofitting into pre-existing plants and compatible with Hailo Wind Systems ladder systems.
AN OVERVIEW OF THE TECHNICAL SPECIFICATIONS OF THE TOPLIFT+ SERVICE LIFT
Servicelift
Payload
Working speed
Temperature range at work
Passenger service
Measurements LxWxH (mm)
Space require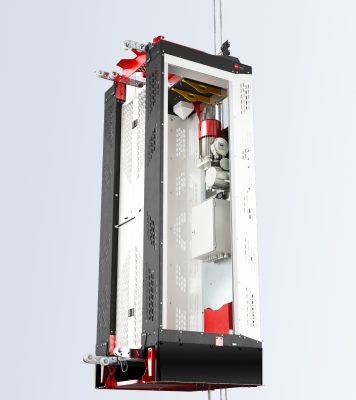 TOPlift L1
ladder
250 kg
18 m/min bei 50 Hz
-20 °C bis +50 °C
available on request: -35 °C
max. 2 Persons
962 x 950 x 2750
1080 x 1080 mm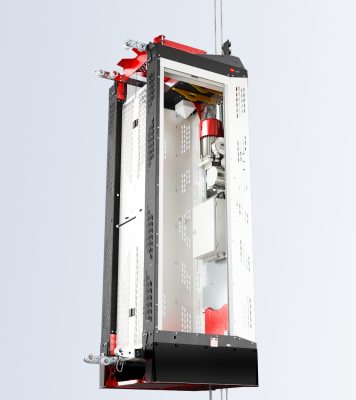 TOPlift L2
ladder
250 kg
18 m/min bei 50 Hz
-20 °C bis +50 °C
available on request: -35 °C
max. 2 Persons
962 x 800 x 2750
930 x 1080 mm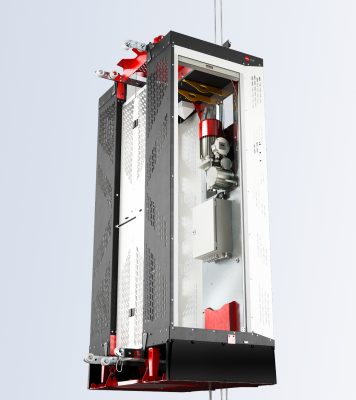 TOPlift L3
ladder
300 kg
18 m/min bei 50 Hz
-20 °C bis +50 °C
available on request: -35 °C
max. 3 Persons
962 x 1200 x 2750
1300 x 1080 mm

EXCELLENT SERVICE
Reliable, competent and with expertise in manufacturing
Consulting, development, commissioning, ZÜS support, expert inspection, maintenance, complete overhauls and much more:
You can rely on our first-class service.